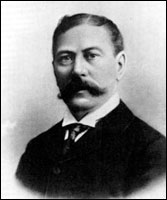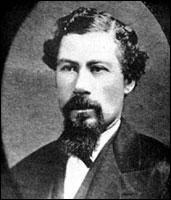 Samuel H. Drachman and Philip Drachman
Read "Philip Drachman -- 1867 A Legislator's Devotion: 200 Horse Miles to Work" from the 1967 Tucson Daily Citizen
Read "The Drachmans of Arizona," written by Dr. Floyd S. Fierman and published in 1964 in the journal, American Jewish Archives. Rabbi Fierman's article tells of the experience of Jewish pioneers Samuel and Philip Drachman who came west in the 1850s and 1860s. Samuel and his brother Philip, his two brothers-in-law Hyman Goldberg and Sam Katzenstein, and Hyman's brother Isaac, were all closely identified with the growth of the Arizona Territory.
Read about Sam Drachman's role in the early history of the Tucson Unified School District in "The First Hundred Years: Davis, Holladay and Drachman 1900 - 1910 - Part 1"

View an image of the 1867 petition that Philip Drachman signed to the Pima county Board of Supervisors requesting a "public school in the town of Tucson."
In the photos about, Rosa Katzenstein Drachman, wife of Philip Drachman, sits with her ten children. The photograph was taken in Santa Monica, California, in 1915. From left to right standing: Harry, Becky, Emanuel, Lillian, Mose, Esther, Minnie and Albert. Seated are Myra, left, and Phyllis. The photo to the right shows Rosa's daughters Becky, Myra, Lilly, Phyllis, Esther, and Minnie. Photos courtesy of Anne Tartaul
Read exerpts from Rosa Katzenstein's journal "The Drachman Brothers: Arizona's Pioneers with Courage and Faith: They Blazed Trails in Commerce, Public Service and Religion,"
Royers "Roy" Drachman, Sr., was a grandson of Rosa and Philip Drachman. Mr. Drachman's parents were Emanuel Drachman and Millie Rogers Drachman, who were married in Tucson in 1905. Emanuel Drachman was the second child born to Philip and Rosa Drachman. Read an e-text of Roy P. Drachman, Sr.'s book, Just Memories. The early chapters describe the family and living in Tucson in the early part of the twentieth century.