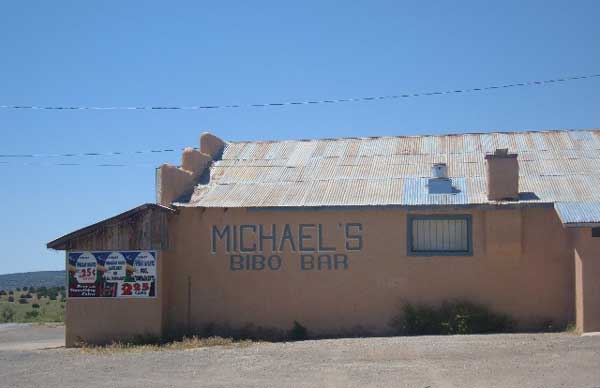 Photo courtesy of Gordon Bronitsky.
Dr. Bronitsky wrote: "There's a little town in New Mexico, Bibo, named after Simon. ... the only thing with the Bibo name on it was the town bar."
The historical record is too limited to do more than speculate on New Mexico Jewish life prior to 1848. The New Standard Jewish Encyclopedia suggests that prior to 1850, there may have been isolated conversos in New Mexico. From then until New Mexico's statehood, Jews played an active role in New Mexico's social, economic and political life.
The first religious services were held in 1860 Sante Fe and a B'nai B'rith lodge was formed in 1882 in Albuquerque. New Mexico's first synagogue was built in Las Vegas in 1886. Other Jews were active in municipal and territorial/state politics. The experiences of New Mexico's Jewish pioneers speak clearly to their resilience and dedication.
In December 2011, the Jewish population of New Mexico was estimated at 12,175 out of a total population of 2,059,179. [Ira Sheskin and Arnold Dashefsky, Jewish Population in the United States, 2011 Berman Institute – North American Jewish Data Bank, University of Connecticut. c. 2011.]
The New Mexico Jewish Historical Society website contains a section on N. M. Jewish Pioneer Families.