German Jewish immigrants settled in El Paso, Texas, prior to the United States' Civil War. The first Jewish congregation, the Mount Sinai Association, was founded in 1887, and its temple was dedicated in 1899. In 1939, El Paso Jews organized the American Jewish Community Council. The Jewish population in El Paso was placed at 4,800 in 1990. The Jewish population of El Paso today is estimated at 5,000. [Ira Sheskin and Arnold Dashefsky, Jewish Population in the United States, 2011 [PDF] Berman Institute – North American Jewish Data Bank, University of Connecticut. c. 2011.]
El Paso's Temple Mount Sinai is one of the featured synagogues in the Synagogues exhibit.
Hollace Ava Weiner has published an article and a book that visitors will find interesting. The artice is The Mixers: The Role of Rabbis Deep in the Heart of Texas American Jewish History 85.3 (1997) 289-332. Our link goes to the e-text version available in Project Muse. Due to licensing agreements it may not be accessible online unless your host institution subscribes to Project Muse. If you can not retrieve a copy online, you can contact your local library to request a copy through interlibrary loan. Dr. Weiner's 1999 book is Jewish Stars in Texas: Rabbis and Their Work, published by the Texas A&M University Press. You may also request a copy  through interlibrary loan.
We have only a few photos to share on West Texas Jewish Pioneers. For learn more, visit the Texas State Historical Society to read a bio of Haymon Krupp, (1874–1949). In that bio, we learn that "El Paso and Texas honored him by naming him 'Most Distinguished Citizen of El Paso' and 'Most Useful Citizen in Texas' and by enrolling him in the El Paso Hall of Honor." 
The Krupp Family

Leah, Haymon, Bernhard, Birdie, & Paula
photo credit Bernhard Krupp

Krupp's Oil Rig, Santa Rita # 1
Adolph Solomon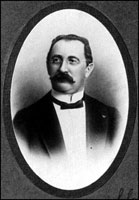 Adolph Solomon served on the El Paso City Council and in 1894 became Acting Mayor of El Paso. In 1899, he became Temple Mount Sinai's first president. Although most of the Solomon family business was in El Paso, Adolph entered into a partnership with his brother Isador Elkan and the Quaker David Wilmot Wickersham, to establish a wholesale grocery firm known as the Solomon-Wickersham Company, which opened branches in Globe and Safford, Arizona.