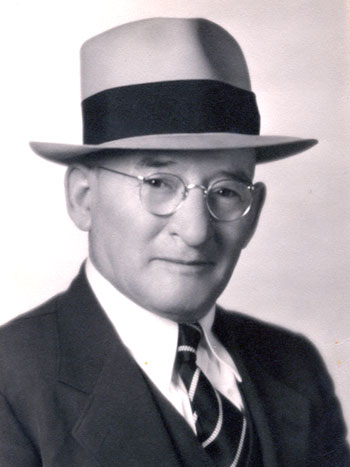 Photo courtesy Edward Hersh (SWJA)
Judah Aaron Kaufman was born in Sheptowka, Russia on November 15, 1974.  He passed away in Tucson, Arizona on February 7, 1946 of a heart attack.  At the time of his death, Judah was married to Rebecca Schwartz Kaufman, his second wife.  His first wife and mother of his daughters was Rosa who was born (I believe in Russia) in 1878.
Judah was the father of two daughters, Tillie Fine and Sophie Cohen.
He had four grandchildren, Rosalie Cohen, Roswell Fine, Benjamin Cohen and the late Helen Cohen. He resided at his home on 1933 E. 10th Street in Tucson.
Judah was a member of Tucson Lodge No 4, the Scotish Rite and the Shriners. Judah and his family arrived in the United States in 1905 settling in New Jersey where he was a tinsmith.  After the tragic death of his wife, Rosa on May 29, 1908 in Dover, New Jersey, Judah and his two young daughters left New Jersey in 1910 for Tucson.  Rosa is buried in Mt. Sinai Cemetery, Dover, N.J.  What motivated Judah to move west and enter the retailing business is unknown.  When he and his second wife met and married is also unknown, but it was said he needed a wife to care for his two young daughters, yet the second wife was anything but caring and maternalistic to Tillie and Sophie.  
At the height of his businesses, Judah owned several stores and properties in Tucson, but at the time of his death, his only had retained the original store located at 86 South Meyer Street.  He had been active in Congregation Anshei Israel as he had served as president and at the time of his death was a vice president.  Judah is buried at Evergreen Cemetery. According to the inscription on Judah's memorial stone in the cemetery, I read that he was the son of Joseph.   At the time of his passing, Judah had resided in Tucson for 36 years.