The Bloom Family is well-known for their interests in the business and philanthropic communities of Tucson. David W. Bloom, the patriarch of the family, immigrated from Lithuania to the United States in 1894. David W. and his friend/future business partner, J. Cress Myers, moved to Tucson in 1906. Myers & Bloom Co. opened their doors for business on September 20, 1906. Myers & Bloom specialized in men's clothing, home goods and notions. The business did very well in its early years and acquired a competitor's store in 1911. Myers & Bloom Co. was building a reputation in the community for its quality merchandise. One novel business tactic was to display their merchandise using glass showcases to prevent the merchandise from being soiled.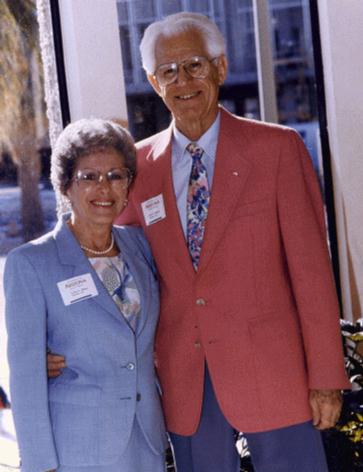 David W. married Clara Ferrin on June 12, 1912. Clara Ferrin is included in our Arizona Jewish Women Pioneers Doll Exhibit. Both Clara and David raised their children: Herbert, David, Theodore and Elaine, with a strong sense of involvement with the Jewish and non-Jewish communities of Tucson. The Bloom's were involved with Temple Emanu-el; the Tucson Symphony Society, Tucson Chamber of Commerce, University of Arizona Alumni Association and numberous other organization. On occasion, the Bloom business would sponsor an event benefiting a local charity. The Bloom children learned the benefits of helping others. For example, David with his wife, Leona, [26K] established the Bloom Southwest Jewish Archives at The University of Arizona.
Myers and Bloom sold their business to another famous retailing family, the Levy's of Arizona. All was not lost to the business community of Tucson. David W. formed David Bloom Men's Store. The Great Depression of the 1930s made the retailing business very difficult. Yet, David W. continued with his new store. David W. acquired some help in the form of his sons, Herb, Ted, and Dave. By 1940, the business changed its name once again and became known as Dave Bloom and Sons, Inc. With the death of David W., each of the sons assumed greater responsibilities in making the store a success. The clientele at the store included both Tucson residents and visitors from Mexico. Herb, Dave and Ted Bloom continued with the business until 1990. The Bloom brothers made the difficult decision to close Dave Bloom & Sons, Inc. because the next generation of Bloom's had other interests beyond the retailing business.
In 1988, U. S. Congressional representatives Morris K. Udall [PDF] and Bob Stump [PDF] sent congratulatory letters to Herb, Dave and Ted for being honored with the City of Hope National Spirit of Life Award. 
The Bloom Family, in November 1995, donated a number of interesting items related to the family business to the Archives. You will notice the transition of the store and merchandise over the years. It's Rodeo Time in Old Tucson [PDF] is an example of Dave Bloom & Sons, Inc.'s involvement in a major community event.