Southwest Jewish History
Volume 1, Number 3, Spring 1993
The Goldwaters: An Arizona Story And a Jewish History As Well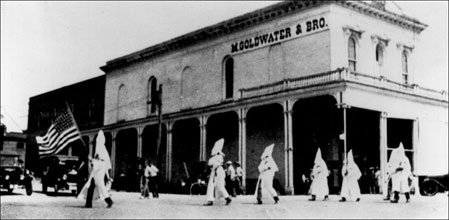 Prescott, 1928. Ku Klux Klan march in downtown area with M. Goldwater store in the background
No family in territorial or state history of Arizona had more dramatic adventures or contributed more than the Goldwaters. Of that there is no question, but are the Goldwaters really a part of the pioneer Jewish history of Arizona?
When Senator Barry M. Goldwater ran for the presidency in 1964 there were nationally- syndicated columnists who wrote that the Arizona Republican was hiding the fact that he was Jewish. In GOLDWATER, an autobiography written in 1988, the senator wrote: "Neither my father nor any of our family ever took any part in the Jewish community. We never felt or talked about being half Jewish since my mother took us to the Episcopal church. It was only on entering the power circles of Washington that I was reminded I was a Jew. I never got used to being singled out in that way. My answer was always the same. I'm proud of my ancestors and heritage. I've simply never practiced the Jewish faith or seen myself or our family primarily of the Jewish culture. In the jargon of today's sociologist, we've been assimilated. We're American."
The Senator was raised as an Episcopalian, but his father was Bar Mitzvah, his grandfather was a leader in California Jewish congregations and in Arizona's territorial days before there were temples or rabbis, grandfather Michael was a lay leader in informal Jewish services at high holidays. Columnists could write that the Senator was half-Jewish, but by the matrilineal line of descent in Judaism, Barry is not Jewish because his mother was a practicing Episcopalian.
Columnists nevertheless could tease that Barry is half-jewish and there was a joke that used to make the rounds. The Senator went to play golf at a restricted Phoenix country club. The club pro apologized to the Senator for not allowing him to play whereupon Barry Goldwater supposedly replied: "Why, that's all right. I only wanted to play nine holes."
Jokes aside, the Goldwater story is an important part of the Jewish history of Arizona and it begins in the "old country," just as it does for so many other immigrant families coming to the "Goldene Medino," the golden land of opportunity-America.
It was by one of these historic coincidences that three young men left England for the United States aboard the same ship and were to be the beginning of two Jewish families who were to write great chapters in the history of Arizona. In the depths of the steamship in steerage class were Michael and Joseph Goldwater and another young man, Philip Drachman, who was to pioneer in Tucson. The adventuring Goldwater brothers were two of twenty-two children born to Hirsch and Elizabeth Goldwasser of Konin, Poland, the site of a Nazi force labor camp where in 1943 Jewish prisoners burned down the huts, tried to escape and almost all were killed. Were there relatives of Senator Goldwater in that camp?
It is possible because the Godwasser family of Konin had been so large. In the book, This Land, These Voices, Barry Goldwater tells of being so proud of his relatives he tried tracing out the family tree. He started with his grandfather Michael and then, he said,: "I found his brother Joe, who was with him in Arizona, and another who was the mayor of Bulawayo, Rhodesia, and one in Australia and that's about as far as I got." the Senator continued: "Well, they left Poland, I guess, for the same reason all Polish Jews left-they wanted to be free from the Russians."
Like other Jew, the family in Konin felt the terror of the pogroms and the fear of being conscripted into the Russian army. Michael left Konin, went to Paris and then to England where he met and married Sarah Gnathion in the Great Synagogue of London on March 6, 1850. The contract of marriage was recorded in a "ketubah," a traditional scroll written in Hebrew-all this early evidence of the Jewishness of the Goldwaters. The name change was made in England. Michael Goldwater was a successful tailor in London and way busy raising a family; Caroline and Morris both were born in London.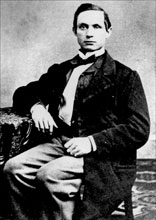 Joseph Goldwater
In London it was Joseph who pressed his elder brother into many adventures, and misadventures, in America. It was Joe who convinced Michael that the real opportunity was not in tailoring in London, but in the New World. Sarah Gnathion Goldwater was fearful of undertaking the trip to the New World and apparently not at all convinced by the stories of her brother-in-law.
On an August day in 1852 Michael and Joseph boarded the ship for America while Sarah and her two small children waved from the dock. The American adventure for the Goldwaters had begun. The ship landed in New York where the brothers remained for a while; Philip Drachman went on to Philadelphia where he found family and work as a tailor. Once again it was brother Joe who set up the next step; he was convinced that they would literally find gold in California and so the brothers soon were back on shipboard heading for Nicaragua. There they crossed the Isthmus of Panama by the crude of travel means and then boarded another steamer for San Francisco. The year was 1852 and for brother Joe the opportunity was not in San Francisco but in the mining camp of Sonora. There were a number of Jewish merchants and miners in Sonora when the brothers arrived in '53. The Goldwaters sought an opportunity, but found they did not have the resources to start a merchandising operation. The least expensive venture would be in a saloon. When Sarah and her two children came to Sonora she was not in the least happy with the business her husband had chosen and was more disturbed when she learned that over the bar someone else was running a house of prostitution.
In fact Sarah never seemed to find great pleasure in the American West. San Francisco, compared to her London town, was crude, Sonora even rougher. Well, it is obvious that she believed the Arizona Territory was no place for a cultured Jewish woman and it is thought that she spurned coming to the area where her husband was busy establishing what was to become the Goldwater empire. It is possible that she came to Arizona once, but that visit is not recorded in any papers yet discovered. Most of her lifetime was spent in Los Angeles and San Francisco where her husband visited often enough that the Goldwater family expanded to eight children.
The Goldwater brothers did poorly in Sonora and fared no better when they moved to Los Angeles where the brothers had a billiard parlor, bar and a tobacco shop in the Bella Union Hotel. Michael had brought with him from the Sonora failure more than $3,000 in debts and he filed for what today probably would be a Chapter Eleven bankruptcy. A friendship with a Los Angeles doctor, Wilson W. Jones, turned around the Goldwater story. Dr. Jones had been to the Arizona mining camp at Gila City and convinced Michael of the business possibilities there. Brother Joe advanced for Michael to purchase a wagon, merchandise to be peddled to the miners, and four mules to pull all of it through the hard desert ride to the Colorado River. Gila City was some twenty miles north of what is now Yuma, Arizona. That ubiquitous traveler-writer, J. Ross Browne, described the mining camp at Gila City this way: "At one time a thousand hardy adventurers were prospecting the gulches and canyons in this vicinity.
"The earth was turned inside out. Rumors of extraordinary discoveries flew on the winds in every direction. Enterprising men hurried to the spot with barrels of whiskey and billiard tables; Jews came with ready-made clothing and fancy wares; traders crowded in with wagon-loads of pork and beans; and gamblers came with cards and monte-tables. There was everything in Gila City within a few months but a church and a jail, Which were accounted barbarisms by the mass of the population."
Things went well for Michael Goldwater and on July 29, 1861 he became a citizen of the United States. The glow of Michael's trade along the Colorado River faded quickly when brother Joe slipped into financial difficulty. Joe had gone to San Francisco where in 1862 he married Ellen Blackman. At that time he also over-bought merchandise in San Francisco and soon a sheriff's sale took away all of Big Mike's merchandise, his wagon and his mules. Once again the Goldwater story seemed to be ending in disaster, but again Michael found a friend, Bernard Cohn, who came to the rescue. Cohn, who was a member of the Los Angeles City Council in 1878, made a proposal Michael could not turn down. He offered Mike a clerk's job in his store in La Paz, the little trading center of the Colorado River. Now Big Mike was established in the territory of Arizona in 1862. It was not very long before Michael became Cohn's partner and he also joined in side ventures with other pioneer Jews of the area, Solomon Barth and Aaron Barnett.
In 1863 Arizona officially received territorial status and Prescott was named its capital. Michael Goldwater saw opportunity and with his friend Dr. Jones he began a freighting business from the river to Prescott, the town that would become the basis for the Goldwater empire. The empire building did not come easily. On the rough wagon trails across the desert Indians often attacked freighters. On one freighting trip, the Goldwater brothers and Dr. Jones were heading back to the river from Prescott when they were attacked by Mohave Apaches. Doc Jones and Mike were in the lead buggy and Joe was in another buggy just behind them. The Indians began firing and one bullet cut through the doctor's hat, and two shots drilled holes in Mike's hat. Joe was not as fortunate. He was hit in the lower back and another ball lodged in his shoulder. The Indians were driven from their ambush of the Goldwater party by ranchers who had come on the battle scene. Dr. Jones worked on Joe, treating him until the party arrived at a military camp where a surgeon was found. For years Joe carried on his watch chain the ball Dr. Jones had taken from his back.
Misfortune dogged Joe in California and Arizona. While Mike moved forward, Joe seemed to have a black cloud over his head; he resembled Al Capp's troubled cartoon character Joe Btfsplk. Joe was to be involved with other fights with Indians, in robberies and his wife died at a very early age.
Brother Michael was doing well, however. He was merchandising, freighting and even ventured into mining by an off-business event. Mike and Bernard Cohn virtually became owners of the storied Vulture Mine in Wickenburg, Arizona, when the owners could not pay for almost $35,000 in supplies. The partners took temporary possession of the Vulture until they had collected the dept in gold extracted from the mine. After ninety days the mine was returned to the original owners. Another strange twist led to the naming of a new town in Arizona and opening a store there. One of the Goldwaters' friends was engineer and map-maker Herman Ehrenberg, often described as the first Jew to come to Arizona. On one trip across the desert with his son Morris, Mike came across the body of Ehrenberg, apparently slain by Indians. In his honor the Goldwaters named the Colorado river town Ehrenberg and opened a store there. For a short while, Joe was the town's postmaster and young Morris apprenticed in the store. Years later in research in Yuma it was discovered that the full name of the map-maker was Herman Christian Ehrenberg and that he was a member of the Lutheran church in Germany.
In 1872 Michael decided to open a store in Phoenix, a town that was later that was to become one of the west's largest cities but at that time was so unimportant that when the railroad came to Arizona it by-passed Phoenix. The Phoenix store did not do well and there was little or no growth at Ehrenberg so the stores were closed and Mike turned to Prescott, the territorial capital, for his next business adventure. The store opened there in 1876. For Michael this was a key move; for brother Joe troubles continued. Again he was in trouble over indebtedness in merchandising and San Francisco creditors sought to have him brought to court. Extradition from Arizona was requested and a sheriff, a deputy United states marshal and a railroad security policeman arrived in Yuma to arrest Joe Goldwater. Joe was having dinner in the home of another pioneer Jewish merchant, Isaac Lyons, when the officers arrested him. Yuma citizens tried to stop what they considered a kidnapping. Even though the charges against Joe Goldwater were dropped, creditors continued to press for some $46,000 they said Joe owed them. Now the U.S. District Court in Tucson ordered seizure of Goldwater assets in Yuma. The Yuma sheriff was told to carry out the order. He refused and as the incident escalated a posse was sent to Yuma with a federal deputy marshal in charge. The marshal was to take goods in the store owned by Lyons who had purchased the items from Joe Goldwater. When the officer tried to take the goods from the store, Lyons resisted. Soon Yuma citizens surrounded the store, and the crowd included guards from the Territorial Prison at Yuma. Everything was set for a major fight when Goldwater and Lyons prevented bloodshed by calling off their friends and submitting to arrest.
Again Joe Goldwater went to San Francisco where the judge said California had no jurisdiction over the Arizona matter. Joe Goldwater was cleared but his credit was ruined.
In Prescott, despite fires and robberies, the Goldwater succeeded and soon there was expansion wherever mining ventures began throughout the territory. In speeches Barry Goldwater often used to deliver in his home state, he would say, "In spite of things you may hear and read, I would contend that the thing the Goldwaters have done best for the past hundred years in Arizona is sell pants. At different times there have been Goldwater stores at La Paz, Ehrenberg, Prescott, Parker, Seymour, Lynx Creek, Phoenix, Bisbee, Fairbank, Contention, Tombstone, Benson and Critenden (not only are all the Goldwater stores gone now, but so are many of those towns).
"In the early days our family tried to meet every need of their communities...at first our store took pride in supplying most of the clothing, household, food, farm and industrial needs of pioneer towns. A customer could be completely outfitted at Goldwater-from cradle to grave. There are pages in old company ledgers that actually relate the sale of baby wear and hardware for coffins on the same day. We sold everything the prospector needed from drill bits and black powder to demijohns of whiskey. We stocked groceries and stock fee; shoes and hats; furniture from Austria and herrings from Holland; horseshoes and horse collars; we had lamps and rugs for the front parlor, spices and soap for the kitchen, and anything needed for the outhouse. Golwaters was a complete store."
Goldwater's became a household word not only in merchandising but also in state, national and international politics. There was longevity in both areas. The Goldwater merchandising that started with the beginning of the 1960's along the Colorado River continued until 1962 when the business was sold to Associated Dry Goods Corporation of New York. The great story of the Goldwaters in politics not only was important in territorial days but remains an influence more than a century after Big Mike's arrival in Arizona territory.
The political story of the Goldwaters is well-known, especially the career of Barry M. Goldwater, who as a United States Senator became known as Mr. Conservative and also was painted a trigger-happy militarist by opponents when he ran unsuccessfully as the Republican candidate of for president in 1964. The Senator had gotten his start in Arizona politics in 1949 when Harry Rosenzweig, son of a pioneer Phoenix jeweler, persuaded him to run for the Phoenix City Council on a better government ticket. Both were elected. The Senator readily admits that he learned his politics at the knee of his Uncle Morris. Morris, Mayor of Prescott for twenty-two years, was a Democrat, and if that is not enough of a political twist, in his later years after retirement from the Senate Barry Goldwater stunned conservatives and even moderate Republicans by coming out for right of choice of abortion and even supported a Flagstaff Democrat for national office.
In their home in Poland the Goldwater boys must have had strong religious training. This was evident in their years in America, not only with the first generation, but with the second as well for Baron, the Senator's father, was Bar Mitzvah in San Francisco. The Senator's grandfather, Michael, was very active in Jewish affairs on the western frontier. In California he had been a member and officer in three Jewish congregations. A story in a Prescott newspaper before the turn of the century relates Michael Goldwater recited Hebrew prayers at the grave of a young boy who had been run over and killed by a freight wagon. When Michael Goldwater completed his Arizona adventures and returned to San Francisco to be with his wife, he became a leader in Jewish affairs again. He was chairman of the committee that founded Hills of Eternity Cemetery at Colma, California where Marshall Wyatt Earp is buried in the Marcus family plot [the Tombstone lawman's wife was Josephine Sarah Marcus.] Michael also headed the first Hebrew Benevolent Society in San Francisco and also chaired the first Zionist meeting in that city March 1, 1898.
When the great Arizona pioneer died in 1903 just a few months short of his eighty-second birthday, Cong. Sherith Israel wrote a memorial tribute to him that began: "It having pleased our heavenly Father in his infinite wisdom to call from our midst our venerable and respected member and ardent worker in the cause of Judaism."
The early Goldwaters had strong Jewish convictions, so strong that out of respect to their mother her sons did not marry out of the faith until after she died. It is said that Sarah kept a list of Jewish girls for her son to date when they came to visit her in San Francisco. It may not have helped, but when Henry was taken by a pretty non-Jewish school teacher from Keokuk, Iowa, Julia Kellogg, he faced opposition from brother Morris. Morris intervened, convincing them to alter there plans. Julia agreed to undergo conversion and the couple was married in Chicago in 1893 by Rabbi Emil Hirsch.
Morris did not follow his own advice. He married out of the faith, but only after mother Sarah had died. Yet all was not forgotten of his background by Morris Goldwater for when he died in Prescott an item among his personal effects puzzled his friends. The item was sent to a rabbi in Tucson for identification. It turned out that for all his years in Prescott, despite intermarriage, Morris had kept in his possession a mezzuzah-a parchment scroll with prayers that is mounted on the entry way of Jewish homes.
After Barry Goldwater's wife Peggy died, the Senator remarried in 1992. Harry Rozenzweig, Barry's life-long personal and political friend, remarked with a smile, "Susan Wechsler is a very nice Jewish woman."