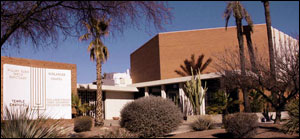 Temple Emanu-El
225 N. Country Club Rd.
Tucson, AZ 85716
(520) 327-4501
Jewish pioneers, among Arizona's earliest settlers, began arriving in Tucson in the 1850's. For half a century, they worshipped in private homes and rented quarters. In 1904, the Hebrew Ladies Aid Society, now the Sisterhood of Temple Emanu-El, was established to provide for social services and religious needs. One of its goals was realized when Temple Emanu-El, the Territory's first synagogue building, was erected at 564 S. Stone Avenue at a cost of $4,712. It opened on the erev Rosh Hashanah, October 3, 1910. The congregation whorshipped there until 1949.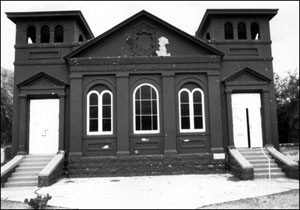 Stone Avenue Temple Before Restoration Began
In 1982, the building was declared a historic site and in the early 1990's, a restoration project began. Read "Synagogue's revival celebrated" from TucsonCitizen.com's online archive. The historic Stone Avenue Temple is now home to the Jewish History Museum.