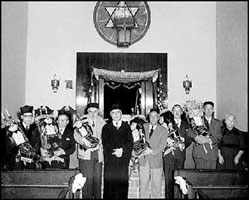 Congregation Anshei Israel
5550 E. 5th
Tucson, Arizona
(520) 745-5550 FAX (520) 745-9058
A Brief History
Congregation Anshei Israel was founded in 1930. Origionally located in a small building near downtown Tucson, the congregation generated strong Jewish community interests. By the 1940s, Anshei Israel moved to a larger building near the University of Arizona campus. This image shows the synagogue's interior from the 1940's. The stained glass window behind the altar and an image of the Ten Commandments within the Star of David carries forward an identification with the Jewish symbols and traditions.

Rabbi Marcus Breger served as the first rabbi for Congregation Anshei Israel from 1939-1970. Under Rabbi Breger's early guidance, Congregation Anshei Israel helped develop a small Hebrew school, known as Congregation Anshei Israel School, which was started by Cantor Maurice Falkow. The Congregation continues to offer limited Hebrew education courses for children.

Cantor Menachem Mendel Lipschultz Tucson Suboichet Cantor, 1935-36. A note indicates that Cantor Lipschultz was 40 years of age when the photograph was taken.