The Wernick Family Record of Remembrance: From Shtetl to Tucson
1940 - Present: From Brooklyn to Tucson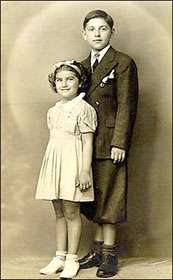 Barbara and Irwin, 1939
Irwin and Barbara Wernick, Ida and Alex's children (1940 family photo), grew up in Brooklyn, NY. They attended the neighborhood public schools. Most summers were spent avoiding the heat of New York City's streets in bungalow colonies, or "cooch alains," in New York State's "borsht belt" - often referred to as the Catskill Mountains. Sometimes, by working double shifts, Alex could arrange to have a few days off. He then journeyed by railroad to join his family in the "country."
Irwin completed Boys High School in 1943. After beginning his college studies at Brooklyn College, Irwin was drafted into the U. S. Army and served with the post-World War II American Occupation Forces in Japan. With the financial help of the GI Bill, he completed his undergraduate studies at Washington University in St. Louis, MO. New York University Dental School followed and additional training took place at Montefiore Hospital in the Bronx. Upon becoming a licensed dentist, he opened his dental practice 209 Avenue P in Brooklyn where he practiced dentistry from 1955 to 1997. On July 12, 1959, he and Vivienne Hartman were married. The marriage ended in divorce in 1991. Read Irwin Wernick's Memories.
Their three children, Warren, Elliot, and Lynne grew up in Woodmere, NY. Warren's greatest interest was and continues to be classical music. He became a master trumpet player and received both undergraduate and graduate degrees at the Julliard School of Music. Warren is also a noted composer and arranger, mainly for wind and brass. Warren and Lisa Kozenko married on Oct. 11, 1998. Among their other musical interests and responsibilities, Warren plays trumpet with a brass quintet and is employed as a Project Manager by SONY Classical. Lisa is the principal oboist of the New York City Opera National Company, Manhattan Wind Quintet and is Director of Chamber Music of the New York Youth Symphony.
Lynne decided that her interests were in Social Services. After graduation from the University of Hartford in 1987, she managed a home health care business. Lynn and Adam Veltri, a real estate and environmental issues attorney, were married in October 1991 and lived in Westport, CT with their two children, Lauren Emily and Ben Joseph. In November, 1999, they relocated to Bozeman, Montana, where Adam Veltri is currently involved in environmentally correct oil reclaimation projects in the American northwest.
Elliot, Irwin's middle child, was the first family member to venture to the Southwest. Elliot received his undergraduate degree from the University of Arizona in 1989. This was followed by several years at the University of Louisville in Kentucky In 1995 he earned a graduate degree in Physical Therapy. The mountain hiking trails, the dry air of the desert, and the numerous outdoor recreational activities along with an excellent job opportunity lured him back to Tucson. Today Elliot lives and works as a physical therapist in Tucson, AZ.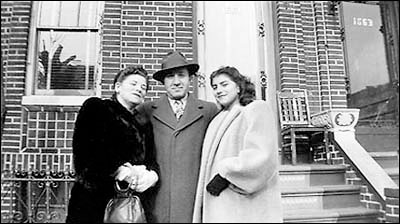 Ida, Alex, and Barbara Wernick, December, 1946
Sterling Place, Brooklyn, New York
Barbara graduated from John Marshall Junior High School #210 in January 1947 and from Thomas Jefferson High School in January of 1950. She earned a BA from the City College of New York in 1953. Barbara majored in sociology, psychology - and especially a young engineering student named Bernard Rosenblum. Barbara and Bernie were married on June 7, 1953 (wedding invitation) and set up their first home, an apartment in Hackensack, NJ. Their daughter, Marla, was born on November 11, 1955 in Englewood Hospital (NJ). By 1954, Bernard was employed at Mechanical Development Corp. in Queens, NY where he worked for more than thirty years as a mechanical engineer, a developer of industrial machinery, and a manufacturing engineer, solving problems and designing numerous mechanical devices to meet special needs for different industries. Eventually Bernard became the Director and General Manager of all operations at MDC.  Read The Rosenblum Link
In 1957, Barbara and Bernie purchased their first home in Huntington Station, NY for $17,990 - a tract house on an abandoned Long Island potato farm. With so much space, three bedrooms and a den, it was time to welcome their second daughter, Abby, on May 23, 1959.
In the early 1960's, the ever restless Barbara opened a dress shop in her basement. The merchandise came from her father-in-law's dress manufacturing factories. During this same time, Barbara managed a marketing staff that sold World Book Encyclopedias in the Huntington area.
When Marla reached the elementary school level and Abby was off to a preschool program, Barbara applied for and was hired to work with deprived second grade children in a low socio-economic area at Lincoln School in the Huntington School District . This federally funded position remained available for the following year but the school's principal encouraged Barbara to pursue her Masters Degree in Education. Thus began her career as an educator. While working daily as a substitute teacher, in the evenings she attended Adelphi University in Garden City, NY.
In 1966, with no official teaching credentials, Barbara was invited to teach a regular sixth grade class at West Hill Elementary School in the South Huntington School District. Her yearly salary was just over $6000. Barbara continued studying in evening and summer session classes and finally completed her MA in Education in 1971. At last she was granted a permanent New York State Teaching Certificate and License to teach grades K-8. After her graduation, while working as a full time teacher, primarily with fifth and sixth graders, she continued her studies at various universities and completed numerous additional graduate level courses. In 1988, Barbara left South Huntington Schools as a retiree.
In 1978, things were looking up financially. This two income family moved to a new home in a more affluent Huntington, L.I. area. Their world travels, which had begun in the early 1960's, continued. Barbara and Bernie traveled east, west, north and south - always with the thought, "Where shall we settle when it's time for retirement?"
Marla graduated from the State University of New York at Binghamton in 1977 with a degree in Psychology. She left New York and moved to San Francisco where she lived and worked for one year. As a child, Marla developed a keen interest in geography and usually requested another atlas when it was time for her birthday. She decided to work in a travel related environment and use her knowledge of maps. As an employee of United Airlines, promotions to more responsible managerial positions required several relocations: Bergenfield, NJ, Glastonbury, CT, and Chicago, IL. There have been several corporate changes and today Marla continues to live in the Chicago area where she is Director of North American Marketing for GALILEO International, a company which develops software used by the travel industry.
Abby graduated from Walt Whitman High School as class valedictorian in 1976. She continued her studies at Brandeis University in Waltham, MA and graduated in 1980. Although she had earned a degree in Science, she decided to persue graduate studies at the University of Pennsylvania in Philadelphia in the unrelated field of architecture. After completing her studies in 1983, she graduated with a Master of Fine Arts degree. Her credentials were complete when she successfully fulfilled all licensing requirements. As a Registered Architect, Abby now directs her own architecture and design firm in Wayne, PA.
Abby Rosenblum and J. Scott Victor, a bankruptcy attorney, were married on Oct.12, 1985. Andrew Kyle Victor was born on August 14, 1989. Abby and Scott divorced in 1996. On June 22, 1997, Abby and Randall Schwartz an expert in technical information systems, were married. Their daughter, Sophie Bayla Schwartz, was born on March 31, 1999.
In 1985 Marla visited a friend who was completing a residency in radiation oncology at University Medical Center in Tucson, AZ. Several months later, she was back in Tucson to attend a conference. Upon her return to the east coast she asked her parents if they had ever been to Tucson, AZ and added, "You should consider a trip to Tucson - I think you would like it there."
Following Marla's suggestion, Bernie and Barbara visited Tucson for the first time in November 1986 and were completely overwhelmed by its natural charms, especially the mountains, the dry air, and the desert foliage. Always thinking about where they would live during their "golden years, " they decided to return to feel Tucson's July heat. They purchased a home in July 1987 and made their permanent move to Tucson in July 1988. Barbara and Bernie at Lynn and Adam Veltri's wedding reception.
The Rosenblums quickly adapted to desert living and even tried playing golf. However, by 1990, Bernie was back at work, earning much respect as an advisor and consultant at Rainbird, a company which designs and manufactures underground irrigation systems. Barbara was employed at Biosphere 2, the closed system experimental laboratory in Oracle, AZ. At the present time, Barbara continues to be involved with Columbia University's Biosphere 2 Center as an educational consultant.
Bernard Rosenblum was diagnosed with pancreatic cancer on February 14, 1992 and passed away in Tucson, AZ on March 20, 1992. After much thought and consideration, Barbara decided to remain in Tucson. Tucson was now her home.
This has been the story of one Jewish family that left Russia almost 100 years ago. In addition, Irwin Wernick decided it was time to move to Tucson to join his sister, Barbara Rosenblum, and his son, Elliot Wernick. In 1997 he decided to give up his dental practice - it was time to retire. Today, Irwin Wernick lives in Tucson. 
 
Introduction   Schmerko Wiernik   St. Johns Place   Private Alexander Wernick   Ida & Alex
Irwin & Barbara   From Brooklyn to Tucson   Wernick Family Photos   Rosenblum Family Photos