The Wernick Family Record of Remembrance: From Shtetl to Tucson
During the early 1900's, the town of Borszczow in the province of Galicia was part of the Austro-Hungarian Empire. As we reach the 21 Century, that area is now considered to be part of the Ukraine. Babcie Tepper and Avrum (Abraham) Rosenblum married and raised their five children in Borsczow.
Babcie and Avrum's eldest, a son named Jacob, left the "old country" with his wife Clara and their daughter Virginia in 1913. They settled in Brooklyn, NY where Jacob set up his own business as a tailor. Two other daughters, Theodora and Charlotte, were born in the United States.
Three of Babcie and Avrum's other children, Louis, Kate (along with her husband Charlie), and Charles, known among family members as "Charlie the Red" due to the color of his hair, left Austria sometime between 1913 and 1920. In the United States, all the Rosenblums earned their living in the "schmatah" (clothing) business. The men worked as contractors and manufacturers of women's clothing. Katie, as Madame Kate, became a noted dress designer and personally created fashions for Dorothy Hammerstein (Mrs. Oscar), actress Molly Picon, and other well-known women.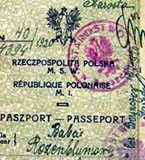 View images of pages from Babcie and Abraham Roseblum's passports
On November 9, 1920, Babcie and Abraham Rosenblum were granted permission to leave with their twenty year old son Irving. They set sail on the S.S. LaTurane from Le Havre, France. Their passports show that their nationality was crossed out and the word "MOSES" was written inscribed. Babcie's occupation was noted as "wife of tailor." They arrived at Ellis Island [23K] in New York harbor on December 20, 1920. According to a much told family story, Jacob and Louis, on a small boat in the harbor, tossed packages of food up to them as they stood on the deck.
Rose Liss and Irving Rosenblum were married on June 21, 1924. Rose, the youngest child of Beila Rost and Chaim Leib Liss, grew up in the town of Chortkow in the province of Galicia, Austria. Chaim Leib, a widower, arrived in the United States with Rose and his older children, Shava, Anna, and Isadore. They settled in The Bronx, NY where Chaim opened a kosher butcher shop. Jim Ostroff, grandson of Jacob and Clara, remembers visiting with his great-aunt and great-uncle, Rose and Irving Rosenblum
Two sons were born to Rose and Irving Rosenblum - Oscar on March 25, 1926 and Bernard on March 6, 1930.
Barbara Wernick and Bernard Rosenblum became wife and husband on June 7, 1953....thus creating the Wernick/Rosenblum link.
return to From Brooklyn to Tucson
Introduction   Schmerko Wiernik   St. Johns Place   Private Alexander Wernick   Ida & Alex
Irwin & Barbara   From Brooklyn to Tucson   Wernick Family Photos   Rosenblum Family Photos Album 1 and Album 2