The Wernick Family Record of Remembrance: From Shtetl to Tucson
1927-1941: A Son and Daughter Irwin and Barbara
Alter and Rochel Wernick, 1920 (left) and 1938 (right)
Ida and Alex's first child, a son, Irwin, was born on August 12, 1927 at Bedford Hospital in Brooklyn, NY. The family lived at 102 Tapscott St. but moved several times during the next few years. Six years later, when their daughter, Barbara, was born at Liberty Maternity Hospital on July 1, 1933, they lived at 1700 Sterling Pl. Beginning in 1935 they rented a larger apartment with two bedrooms at 1656 Sterling Place where they remained until 1956.
The Great Depression arrived and so did talking moving pictures. This was an opportunity for men who were physically able to climb into the projection booths of the newly built movie theaters - men who could lift the heavy reels of film and work for long hours in hot, dark, narrow spaces. Alex became a moving picture projectionist. While working conditions were poor, the wages were fairly good and the work was steady. During the years of the Depression, when millions had no work, the Wernick family had a reliable source of income. They saved enough to purchase their first refrigerator and even a "used" car in the late 1930's. Alex worked as a projectionist until his retirement at the age of 79.
In 1938 and 1939, rumors were surfacing about atrocities against Jews in Europe. Like so many other Jewish immigrants, Alex and Ida scrambled to prove their American citizenship. While records were available proving Alex's citizenship through the naturalization of his father on May 14, 1914, no similar records for Ida could be found. After meeting the literacy requirements, Ida became a naturalized American citizen on November 14, 1940.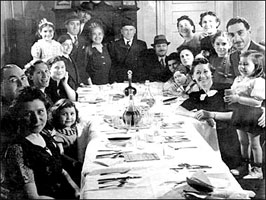 The Family Passover Seder, 1939
Once again, at the age of 48, Alex registered with Selective Service and was prepared to serve in his country's armed forces. He was declared too old. Two months after the United States became involved in World War II, Alex volunteered to become a Warden in the United States Citizens Defense Corps and worked as a Captain until peace was once again declared in 1945.
Alter Wernick passed away on Sept. 4, 1943. Dozens of family members, neighbors and dear friends walked solemnly behind the hearse carrying his body as they took him for the final time to his beloved "shul."
For more than twenty-five years, Rochel worked daily as a volunteer at the Jewish Chronic Disease Hospital, Occupational Therapy League. Indeed, she was honored by a testimonial dinner in the early 1950's. After Rochel's death on August 20, 1958, the hospital published the following notice to her seven children:
YOU NEVER LOSE THE ONE YOU LOVE
-- ROSE LEAH WERNICK --

 

    Her gentle voice and tender care were filled with saintly grace;
    Ills were cured, hopes were assured from smiles on mother's face.
    Her life read like a sacred book; her pilgrimage each day;
    Not to disappoint the look of those who waited for her smiling face
    And hands that fed and carried goodies to the patients of our Hospital.
    Today, perhaps tomorrow someone will say
    "How much your mother did for me - and me - and me."
continue with From Brooklyn to Tucson
 
Introduction   Schmerko Wiernik   St. Johns Place   Private Alexander Wernick   Ida & Alex
Irwin & Barbara   From Brooklyn to Tucson   Wernick Family Photos   Rosenblum Family Photos