Southwest Jewish History
Volume 3, Number 2, Winter 1995
The Ilfelds: A Family Story of Jewish Pioneers in New Mexico
by Sophia Truneh
The Ilfelds, like other Jewish pioneer merchants, ranchers, wool and livestock traders, played a major role in the social and economic development of nineteenth century New Mexico. Charles Ilfeld, the patriarch of this family, was a hardworking and noble man, whose values led him to financial success and social prominence. Charles Ilfeld never limited himself to the role of a leading territorial merchant, sheep rancher and land owner. He took an active role in a variety of local, Jewish and Hispanic community affairs. Later in life, he was affectionately referred to by the locals as "Tio Carlos" or "Tio Charlie." (Tio means uncle in Spanish which is a sign of respect).
Charles was the seventh child of Lester and Betty Ilfeld of Homburg Vor der Hohe. His older brother, Herman, like many German Jews of the time, had already left Germany and sailed to the U.S. to escape Prussian conscription and seek his fortune. In 1865, eighteen year old Charles Ilfeld arrived in Santa Fe, New Mexico, an old Spanish frontier town. Young Charles' arrival in the Southwest was at the most opportune time, as the Civil War had just ended and trade in the region had resumed.
From these humble beginnings, Charles Ilfeld rose to the status of prominent citizen by sheer hard work, ability, initiative and foresight. In a 1982 article written by Jane O'Grady, wife of an Ilfeld descendant, stated that "when Charles arrived in Santa Fe in 1865, he had just $5.00 in his pocket." O'Grady further relates a story from F. Stanley's book, about the time Charles was so broke that he borrowed $5,000 in gold from an old Spanish gentleman. Charles Ilfeld, of course, not only paid back the principle but he included interest. According to Milton Callon, as cited by O'Grady, Charles' business "... grew by the ingenuity of a man who was willing to sleep under the counter of his store in its earliest beginnings to protect it from thieves."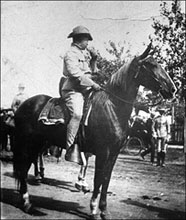 Then Governor Teddy Roosevelt riding the horse belonging to Ludwig Ilfeld
on June 21, 1899. On March 3, 1909, an inscription was added "To L.W. Ilfeld
with regards of Theodore Roosevelt." photo donated by Dr. Federick Ilfeld
Herman and his business partners' Elsberg and Amberg recruited Charles as their agent in Taos, New Mexico. Later, they introduced Charles to their buyer, Adolph Letcher. His association with Letcher, the highly respected trader, proved to be a learning and most productive experience. By 1867, Letcher and Charles Ilfeld were already business partners in Taos. These astute businessmen perceived Las Vegas, New Mexico as their next business venture. Letcher and Ilfeld packed their merchandise on seventy-five burros and made their way to Las Vegas, where they laid the foundation for "Letcher and Ilfeld, General Merchandise."
Las Vegas was a boom town for business opportunities, however, competition was intense. Ilfeld and Letcher were both aggressive and astute businessmen when they selected the most appropriate location for their store -- right on the Plaza in Old Town, which was the meeting place for traders, ranchers, wagon and mule trains. The Ilfeld-Letcher team, with hard work and a bit of good luck, was able to establish good trade relations. In their first year of business in Las Vegas, they made $18,000, which in that era it was quite an accomplishment.
By 1873, the business was prospering which enabled Charles Ilfeld to travel back to the old country to seek a bride. When Charles returned to the U.S., he brought his fifteen year old brother, Louis, with him. Another Ilfeld brother, Noah, would later immigrate to the U.S. and join the Ilfeld business ventures of New Mexico. In 1874, Charles married Adele Nordhaus, who was the beautiful daughter of Rabbi Jacob Nordhaus of Paderhorn. Life on the frontier was very different to what Adele had been used to. Despite the gunfights and violence in Las Vegas, Adele gradually settled into her role as the wife of a prominent businessman. She brought old world elegance, including hosting many elite parties, which were a novelty to the rough and tough times of the American frontier.
Charles, in 1874, bought out Adolph Letcher's share of their business for the sum of $36,000 and established The Charles Ilfeld Company, which became one of the largest mercantile firms in New Mexico. By 1883, Louis and Noah Ilfeld left their brother's firm and establish their own business, Ilfeld Brothers Co. of Albuquerque. The ever resourceful Charles, brought his eighteen year old brother-in-law, Max Nordhaus from Germany to assist him in the running of the wool and livestock business which was another branch of The Charles Ilfeld Company. Max had a strong business acumen and became Charles' partner. Eventually, Charles gave Max his power of attorney and later made him his second in command and first in the line of succession with the firm. Throughout the years, Charles continued to bring in several of his relatives to work in the various store branches. He also was instrumental in helping immigrants start their own businesses.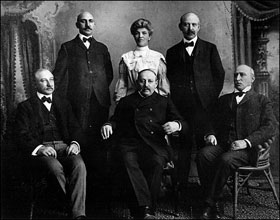 Ilfeld family members pose in Las Vegas, New Mexico, circa 1902-1904
standing: Noah, Johanna, Louis; seated: Charles, William, Bernard
photo donated by Dr. Federick Ilfeld
Charles and Adele Ilfeld were active in both social and community affairs. In 1876, Charles was master of the Chapman Lodge No. 2 of the Masons in Las Vegas. He also served as director of the New Mexico Normal School, which is now known as New Mexico Highlands University. In an original 1886 document located at the Bloom Southwest Jewish Archives, we know that Charles Ilfeld was one of the distinguished organizers listed in the appeal to establish Congregation Montefiore in Las Vegas. The Bloom Archives also has the original 1886 signed document of the founding members of the Congregation Montefiore listing Charles Ilfeld as donating $150.00 for the purchase of land for building the synagogue.
In 1892, sixteen year old Ludwig William Ilfeld, a nephew to Charles, arrived in Las Vegas. After several years of working in Charles' company, Ludwig started his own general store in Springer, New Mexico. Eventually, Ludwig ended his business in Springer and accepted an offer from the Wolf-American Company. This job proved to be ideal for him because he was able to travel throughout the U.S. and abroad.
Ludwig was an avid outdoorsman and renowned horseman. His love for horses led Ludwig to establish a close friendship with Theodore Roosevelt, when he came to Las Vegas to attend a "Rough Riders" Reunion in 1899. Ludwig loaned Roosevelt his horse "Maude" to ride in the Rough Riders parade. Later, Roosevelt returned the favor by inviting Ludwig to his 1904 presidential inauguration in Washington D.C. Ludwig also attended the 1909 inauguration of President-elect Taft as an honored guest, this time on behalf of the governor of New Mexico. As Ludwig related to an interview conducted by Alonzo McCain, he wore a rented colonel's uniform to the event. (The Bloom Southwest Jewish Archives would like to thank Dr. Frederic Ilfeld for donating the original photographs of his family to our offices. Some of these photographs are published in this issue of the newsletter).
Ludwig had a variety of civic and social interests. He is credited with bringing polo to Las Vegas, as well as, the formation of the Meadow City Polo Club in the 1930s. Ludwig served his community for over forty years as chief of the East Las Vegas Volunteer Fire Department and as a commissioned officer in the New Mexico National Guard. Ludwig also had a "movie career." He had a small part in a Tom Mix western movie that was filmed in Las Vegas.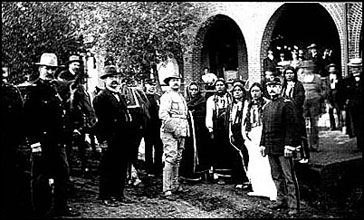 Roosevelt poses with U.S. Military officials and Kiowas. photo donated by Dr. Federick Ilfeld
The Ilfeld brothers, Louis and Noah, were quite active in Jewish religious affairs in Albuquerque. Prior to the founding of Temple Albert in 1897, the Jewish families of Albuquerque including the Ilfelds', Jaffas', Grunsfelds', Neustadts', Altheimers', Sterns' and others met in the home of Aaron Rosenwald. According to Elise Rosenwald Schweich, daughter of Aaron Rosenwald, the group members conducted the services, while Mrs. Noah Ilfeld served as organist. After Temple Albert was established, Louis Ilfeld served as chairman, Noah as vice-president and Mrs. Noah Ilfeld as organist and president of the Sisterhood.
Louis Ilfeld married Bertha Staab, who was the eldest daughter of Abraham Staab. Louis was also a successful merchant who was highly regarded and well liked by the community. Louis was kind, generous and understanding to his friends and customers, who often asked for favors. One interesting favor, according Louis' and Anna's daughter Beatrice Ilfeld Meyer, was asked by Father Mandalari of the Immaculate Conception Catholic Church. As Louis was preparing to take one of his trips to Europe, Father Mandalari asked him to take some rosaries with him and have them blessed by the pope. Louis did not consider this a strange request and "... the rosaries were taken, blessed and returned to the good Father Mandalari" recalled Mrs. Meyer.
During the Great Depression, Jack Reynolds, who was president of the First National Bank in Albuquerque, was faced with overwhelming withdrawals by his depositors. Reynolds asked Louis for help and true to form, Louis walked into the bank past the queues of people with thousands of dollars in his hand, which he promptly deposited in the bank. This act lessened the customers' fears and avoided a financial disaster at the First National Bank.
As trade opportunities shifted from Las Vegas, Charles first opened a branch in Albuquerque, New Mexico, before relocating the company headquarters there. Although Charles and Adele remained in Las Vegas, Max Nordhaus and his wife Anna, the daughter of prominent merchant Abraham Staab, moved to Albuquerque to oversee the company business. Charles and Adele Ilfeld's sons, Arthur, Herman and Louis all joined the family business in Albuquerque. As Rabbi Raphael Goldstein wrote about Charles in 1923, "... if he is the wealthiest Jew in New Mexico, he is also one of the most philanthropic." Charles was admired not only for his commercial success but also for his interests and generous support of the Jewish and non-Jewish communities of New Mexico. After the deaths of Charles in 1929 and Max in 1936, The Charles Ilfeld Company remained in operation for almost two decades under the management of Earl Moulton and members of the Ilfeld and Nordhaus families.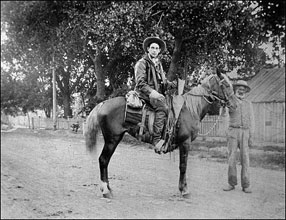 A young Ludwig Ilfeld on horseback, circa 1894. photo donated by Dr. Federick Ilfeld.
From the beginning, the Ilfelds were progressive members of the New Mexico business community. They were more than empire builders, they were inspiring community builders as well. Understanding discrimination from their earliest years in Europe, the Ilfeld had strong ties with the Native American and Hispanic communities. The Ilfelds were not hesitant in giving their support, confidence and respect to the successful African American businessman, Montgomery Bell. Like other German Jewish merchants, the Ilfelds were undoubtedly instrumental pioneer leaders in the economic and social progress of the New Mexico frontier. Today, their descendants continue with the Ilfeld tradition of excellence and commitment to civic duty across the U.S. Our own University of Arizona Dean of Social and Behavioral Sciences, Dr. Holly Smith, is an Ilfeld descendant and an example of that Ilfeld excellence.
REFERENCES
Fierman, Floyd S. 1985. Guts and Ruts: The Pioneer on the Trail in the American Southwest. New York: Ktav Publishing House, Inc.
McCain, Alonzo Earl. 1959. The Recollections and Memories of Ludwig William Ilfeld. A research paper presented to New Mexico Highlands University in partial fulfillment of the requirements for the course Research in History.
Meyer, Beatrice Ilfeld. 1973. Don Luis Ilfeld. Albuquerque, NM: The Albuquerque Historical Society.
O'Grady, Janet. 1982. "The Pioneer Ilfelds: Working Hard, Long, and Smart." In New Mexico Magazine.
Parrish, William. 1959. "The German Jew and the Commercial Revolution in Territorial New Mexico 1850-1900." The University of New Mexico Sixth Annual Research Lecture.
---------. 1961. The Charles Ilfeld Company A Study of the Rise and Decline of Mercantile Capitalism in New Mexico. Cambridge: Harvard University Press.
Rochlin, Harriet and Fred. 1984. Pioneer Jews A New Life In The Far West. Boston: Houghton Mifflin Company.
Rosenwald Schweich, Elise. 1951. Temple Albert History Congregation Albert, 1897-1951. Albuquerque, NM: Temple Albert publication.