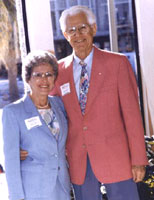 In appreciation of Leona G. and David A. Bloom
Preserving a Southwest Jewish Heritage The Bloom Southwest Jewish Archives at the University of Arizona Library is a research collection dedicated to collecting and recording the dramatic history of pioneer Jews in the Desert Southwest, covering Arizona, New Mexico, and West Texas. It is a repository for major collections of primary materials on Jewish families from these areas -- including the Fred and Harriet Rochlin Collection and Rabbi Floyd Fierman Collection. The Bloom Archives has family histories, original memoirs and historic photographs. It is open to faculty, students, the media and the general public.
Recognizing Crypto-Jewish History In addition to continuing research into pioneer Jewish history of the Desert Southwest, the Bloom Archives also is a repository for materials on Crypto-Jews, persons who are tracing their family histories back to Spain and Portugal. These descendants of Crypto-Jews are seeking to understand their hidden past based on secret family practices whose origin is imbedded in Jewish tradition, culture and religion and has been handed down through generations.
A Little Background on the Website